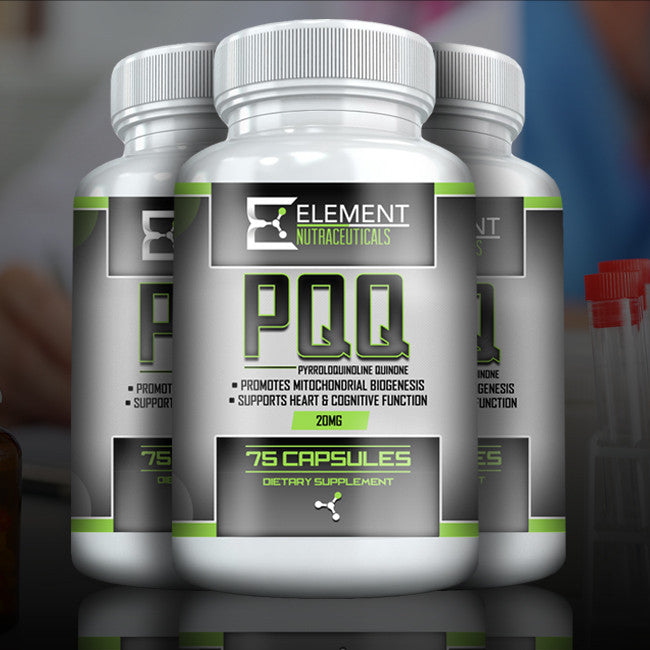 PQQ | Everything You Need To Know!
July 7, 2017

Optimal Mitochondrial Defense -
As the primary engines of almost all bioenergy production, the mitochondria rank among the physiological structures most vulnerable to destruction from oxidative damage. PQQ's formidable free radical–scavenging capacity furnishes the mitochondria with superior antioxidant protection.  At the core of this capacity is an extraordinary molecular stability. As a bioactive coenzyme, PQQ actively participates in the energy transfer within the mitochondria that supplies the body with most of its bioenergy (like CoQ10). Unlike other antioxidant compounds, PQQ's exceptional stability allows it to carry out thousands of these electron transfers without undergoing molecular breakdown. It has been proven especially effective in neutralizing the ubiquitous superoxide and hydroxyl radicals. According to the most recent research, "PQQ is 30 to 5,000 times more efficient in sustaining redox cycling (mitochondrial energy production) . . . than other common [antioxidant compounds], e.g. ascorbic acid." A consistent finding in the scientific literature is that nutrients like PQQ provide more wide-ranging benefits than conventional antioxidants the general public relies on.

Anti-Aging Armor for the Most Energy-Intensive Organs - 
PQQ's dual capacity as a cell signaling modulator and a superior antioxidant renders it optimally effective in combating degenerative disease and age-related declines in the body's most energetic organs: the heart and brain.  The revelation of its ability to favorably affect system-wide cell development, metabolism, and mitochondrial biogenesis affords an explanation for a wealth of data on its neuroprotective and cardioprotective benefits.

Neuroprotection -
PQQ has been shown to optimize health and function of the entire central nervous system. It reverses cognitive impairment caused by chronic oxidative stress in pre-clinical models, improving performance on memory tests. It has also been shown to safeguard the "Parkinson's disease gene," DJ-1, from self-oxidation—an early step in the onset of disease.  Reactive nitrogen species (RNS), like reactive oxygen species, impose severe stresses on damaged neurons. They arise spontaneously following stroke and spinal cord injuries and have been shown to account for a substantial proportion of subsequent long-term neurological damage. PQQ suppresses RNS in experimentally induced strokes. It also provides additional protection by blocking gene expression of inducible nitric oxide synthase (iNOS), a major source of RNS, following spinal cord injury.
PQQ powerfully protects brain cells against oxidative damage following ischemia-reperfusion injury—the inflammation and oxidative damage that result from the sudden return of blood and nutrients to tissues deprived of them by stroke. Given immediately before induction of stroke in animal models, PQQ significantly reduces the size of the damaged brain area.  PQQ also interacts in a beneficial manner with our brain's neurotransmitter systems. In particular, PQQ protects neurons by modifying the important NMDA receptor site. NMDA is a powerful mediator of "excitotoxicity," a response to long-term overstimulation of neurons that is associated with many neurodegenerative diseases and seizures. PQQ also protects against neurotoxicity induced by other toxins, including mercury!
Posted in News By Element Nutraceuticals